The process
We select our wood very carefully. We get our elm wood from Amsterdam, walnut from the Betuwe and Dutch oak from our own soil. Every tree is unique and every table tells its own story. Because we buy locally, the wood is sustainable by definition. The trees we use are never felled for aesthetic reasons, but felled for old age, disease or the construction of houses and roads.
After the selection process, our logs are transported to the Betuwe region where we saw our wood. Logs, sometimes as wide as 1.5 meters and several meters long, are carefully cut using the oldest band saw in the Netherlands.
Next comes the lengthy drying process. Dry wood is stable. Our drying chambers ensure that the wood is dried and moisture is removed through heating (powered by solar panels).
After a year and a half, we can use our wood, which is then transported to our workshop in Amsterdam. We have a magnificent stock of dry wood, including beech, (fossil) oak, elm, walnut, poplar, ash, chestnut, and plane tree. Each wood species has its own unique character, grain, and color.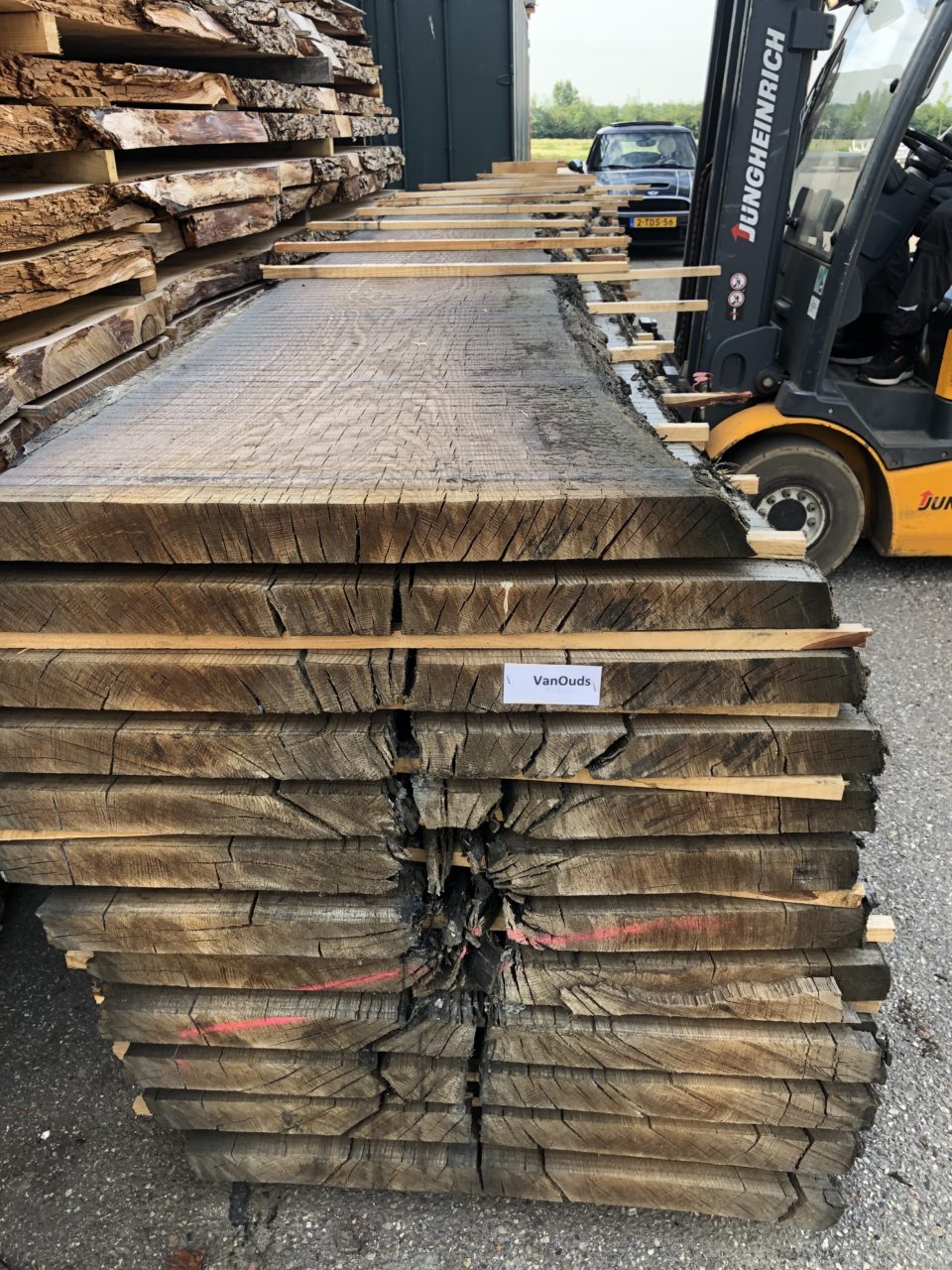 Materials
Our exclusive dining tables are entirely custom-made from wood, epoxy, and steel. For the wooden tabletop, we primarily use European walnut wood, but we also increasingly incorporate fossil oak, elm, smoked oak, or beech wood.
For the base, we use cold-rolled blue steel. The steel legs are welded in-house at our workshop. The epoxy resin is specially developed for us, and pouring it has become our specialty.
We work with patience, love, and craftsmanship. It takes time to produce an authentic VANOUDS table. Each item is meticulously handcrafted to order. The process takes approximately 4 to 6 weeks, from start to finish. We always have a range of high-quality products in stock for you to see, touch, and experience.